<< Back to Resources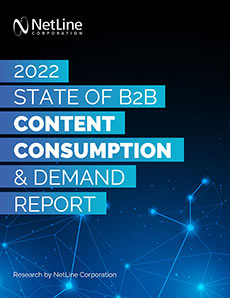 2022 State of B2B Content Consumption and Demand Report for Marketers
Distilled from 4.6 million content registrations, NetLine's annual report delivers an exhaustive analysis of B2B consumption behaviors—including buyer-level intent data.
The industry's most sought-after annual report detailing the
who, what, where, when,
and
why
of B2B buyer habits has arrived. In our 6th edition, we've once again identified inimitable insights from first-party buyer-engagement behavior, resulting in powerful observations and takeaways that will enable you to better target prospects and decision-makers.
Our 2022 report also includes a brand-new section, featuring NetLine's progression into buyer-level intent data. A "report within a report," this section breaks down insights captured via 72k+ first-party buyer-level intent findings insights from across the B2B spectrum—allowing NetLine to share unrivaled observations of the true intentions of in-market buyers.
The 2022 report breaks down these data points in a multitude of ways, including:
By the People
By the Company
By the Industry
By the Asset
Keyword Trends
Newly created Content Format to Buyer Intent Matrix
The 2022 State of B2B Content Consumption and Demand Report unpacks first-party data from
real
professionals consuming
real
content across the leading and largest B2B buyer engagement network. Optimize your 2022 marketing strategy with revenue-driving data.