<< Back to Resources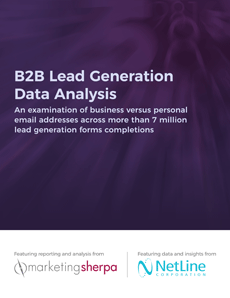 B2B Lead Generation Data Analysis Report by MarketingSherpa and NetLine
An examination by MarketingSherpa of business versus personal email addresses across more than 7 million lead generation form completions on the NetLine Corporation B2B content syndication lead generation network.
B2B marketers tasked with lead generation have a decision to make when it comes to capturing prospects with business email addresses versus personal email addresses. The growing debate led to this study by MarketingSherpa in collaboration with NetLine to determine what type of email addresses professionals are using to download long-form content today.
NetLine provides data on the leads generated across the NetLine B2B content syndication network in the past 12 months. MarketingSherpa performed deep analysis into the unique personas and trends within the data to offer important insights for B2B marketers. Key takeaways include:
55% of professionals are using their personal email address to download long-form content.
In an era where job-hopping is rampant, the professional email address has a limited timestamp.
Don't make the mistake of forcing customers to interact with your brand on your terms.
Run A/B experiments and see what performs best for your business.
Find out what percentage of personal email addresses are used today to download professional business-related resources such as white papers, guides, eBooks, and research by top personas. The insights will help B2B marketers decide how to approach setting lead filters going forward.
This report was originally published in the MarketingSherpa Chart of the Week series.