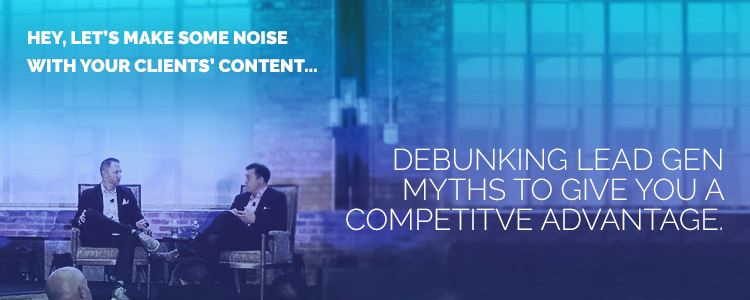 4 common myths about lead gen for publishers
For publishers who push their organization by offering lead gen, the client demands can often create pressure to deliver against a finite amount of resources. The challenge of accommodating a consistent, predictable pricing model to fit client needs is often a barrier to expanding the scope of lead generation products.
That sounds like leaving money on the table.
Lead gen can play a major supporting role in circumventing some of these roadblocks to success, but many publishers subscribe to philosophies that need to be debunked. (Remember that table, with money on it?)
Inspired by the many conversations with publishers facing the same problems and myths about lead gen, we wanted to address some common misconceptions and deconstruct barriers that are holding publishers back from innovating and succeeding in today's competitive landscape. ALM's President of Media, Jay Kirsch, sat down with NetLine's SVP of Audience and Product, David Fortino at Connectiv CEO Summit to share insight on how this strategic partnership helped throttle their product strategy. Debunking these myths and taking action, ALM made a complete transition to the NetLine Publisher Platform and was able to optimize margins, and scale digital revenues without investing a single penny in technology.
Myth #1: A lead gen stack is too expensive and cumbersome to implement.
False—actually, it can be free.
The NetLine Publisher Platform is free to use. This comes as a shock and we usually have to repeat it many times for the look of disbelief to dissipate, but NetLine's advanced lead form technology, campaign management tools, and real-time analytics are free when you promote content to your own audience. No fees and no commitments. Best of all, with each campaign a publisher runs to its own audience, NetLine's form technology will dynamically translate that single session into a multi-monetization event. Our existing platform publishers flatteringly refer to us as the
"Platform that pays you to use it."
This multi-monetization event is dynamically rendered via NetLine's content recommendation algorithm, AudienceTarget™, to appeal to each unique user; the additional content is appreciated by users and publishers alike. On average, users make an additional content request during a session thanks to this feature, so we know they're enjoying it. Going back to that money on the table – this feature adds to the heap.
Myth #2: Publishers shouldn't sell lead generation on a performance basis for risk of over or underperformance, leaving them with no control.
False.
Well, partially true if publishers are relying on their own infrastructure to manage the lead gen campaign execution. With only so many contacts in their database and infinite variables in client targeting objectives, the effective cost of a lead to the client could be $3 for one campaign and $300 in another. When publishers need to scale campaigns, they're stuck. So, this fear emerges that becomes a limiter for consistent monetization. With the NetLine Publisher Platform, publishers are able to "flip the switch" – on-demand scale that helps publisher teams and stakeholders predictably quote CPL for clients and propose campaigns with no risk. Simply open up campaigns into the NetLine network of professionals and tap into the scale of hundreds of thousands of potential leads for a client.
Myth #3: A lead gen offering will require a full team of designers, developers and QA to develop a campaign internally.
False.
The operational efficiencies of utilizing NetLine as a lead gen platform are some of the most valued aspects of what we're bringing to publishers. Once the astonishment fades that it's free to use, publishers who fully adopt the platform find there are more opportunities to cut costs and enhance efficiencies. Launching a campaign takes only a few minutes (we say in the time it takes to sip a cup of coffee) and in that time, the platform renders a cover graphic from the PDF, and an associate can enter the lead criteria and set mapping parameters to feed directly to the client's MAS, CRM, DMP, and/or SFA platform. Custom questions can be set if there are unique campaign elements required by the client. All of it, customized and centralized, within a few minutes, while tapping into incremental monetization simultaneously. It should go without saying that all of our forms are GDPR compliant, but we'll say it anyway.
Myth #4: It's too difficult to support the disparate needs of clients and how they want to receive data.
False.
It's so easy, it's already accomplished by the time you've finished the coffee we mentioned in Myth #3. Connecting to a client's MAP or CRM is just a matter of a few clicks during campaign setup. Popular systems like Marketo, Eloqua, Hubspot, Pardot and even webinar hosting services like ON24 or GotoWebinar can all receive the leads generated by a NetLine-hosted lead generation campaign. If a single client is using Marketo for most campaigns, but ON24 for a webinar campaign, connect within each individual campaign to deliver exactly what they want, where they want it.
When it comes to delivering data to clients, the NetLine Portal generates real-time dynamic reports that illustrate campaign performance, down to a granular view of each individual lead.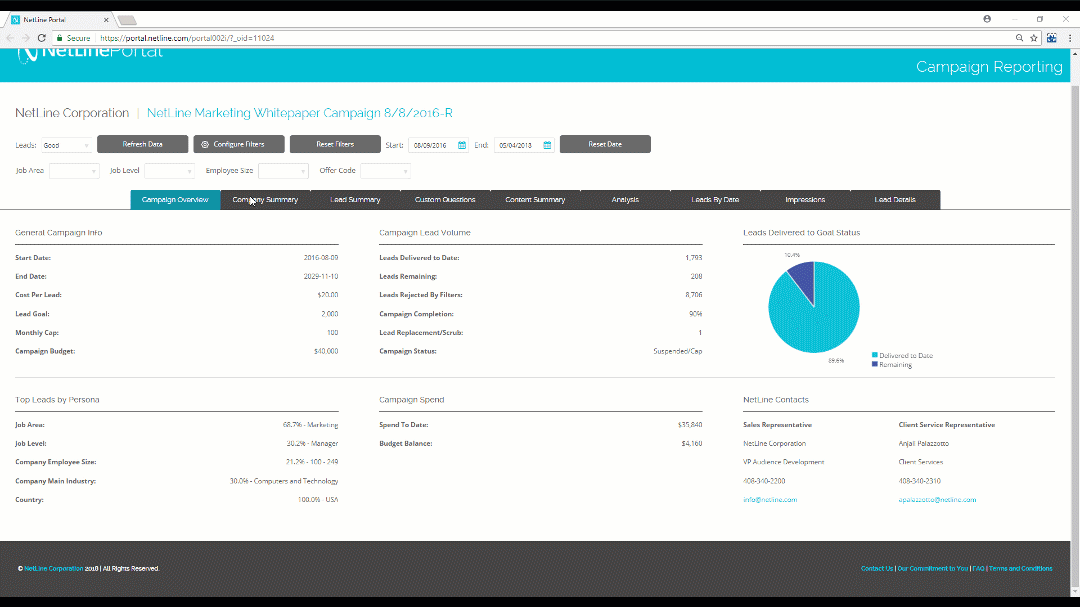 Pivot tables allow for custom reporting views that can help clients understand how their objectives are being achieved and where their content is having impact. Sorting by any variety of filters used in a campaign, lead totals can be analyzed and reported back to clients. This has become a saving grace for lots of publishers (and agencies) that want to impress and delight their clients with the upmost transparency.
Debunking these myths can present a fresh opportunity for publishers to gain a competitive advantage, improve operational efficiencies and adopt a free martech stack.
Get started today. Connect with our lead gen experts and see how the NetLine Publisher Platform can work for you.