<< Back to Resources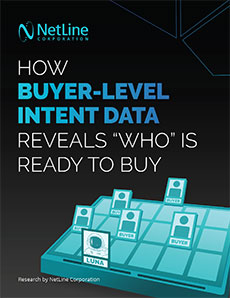 How Buyer-Level Intent Data Reveals "Who" is Ready to Buy
Collected from 72k individual buyer-level insights, NetLine's Intent analysis provides an unrivaled look into the true behaviors of B2B buyers nearing a purchase decision.
In our sixth annual report, we broke down first-party buyer-engagement behavior that allows you to better target prospects and decision-makers and introduced a brand new section, featuring NetLine's progression into buyer-level intent data. This section is so impactful that we wanted to present it on its own.
A "report within a report,"
How Buyer-Level Intent Data Reveals "Who" is Ready to Buy
reveals intent findings insights from across the B2B spectrum, uncovering the real intentions of in-market buyers.
By downloading this report, you'll come to understand:
Why content consumption is directly related to purchase intent
How many B2B buyers expect to invest in the next 12 months
The relationships between buyer attributes and buyer-intent
Which content formats are more likely to be associated with immediate buying decisions
How Buyer-Level Intent Data Reveals "Who" is Ready to Buy
provides transparency within an otherwise anonymous void in the market. This is one asset you're not going to want to miss.