<< Back to Resources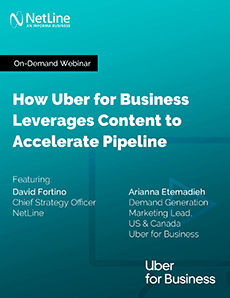 How Uber for Business Leverages Content to Accelerate Pipeline
Learn from Arianna Etemadieh of Uber for Business and her thoughts on how a data-driven, pragmatic approach can bring results.
How can B2B marketers successfully engage in-market prospects using their content? At Content Marketing World, Uber for Business's Arianna Etemadieh and NetLine's David Fortino took the stage together to share some insight. Now, you have access to this exclusive behind the curtain session.
You'll learn:
How to develop and deploy content specifically designed to break through the clutter
How to leverage content to increase ROI
Ways to engage your audience to take action
How to identify the right metrics to measure success
If you're ready to get strategic and translate your content into B2B outcomes, you don't want to miss this.
Watch now!