<< Back to Resources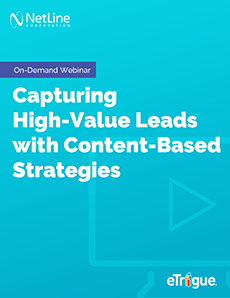 Capturing High-Value Leads with Content-Based Strategies
If you're interested in capturing high-value leads and improving relations between sales and marketing, this webinar offers practical advice and tactics to improve your lead generation campaigns.
David Fortino of NetLine discusses how to optimize targeting and leverage disruptive content that motivates prospects to think differently.
He'll cover:
Content That Converts
Learn how to use disruptive content to sell change. By challenging the status quo, disruptive content can reveal unconsidered needs that expose the potential high cost of not making a change and how your solution resolves the uncertainty.
Lead Gen and Nurturing Strategies
Market beyond the C-Suite. Non-C-Suite employees have twice the influence on buying decisions. David will examine fresh approaches to demand gen content creation and lead nurturing as covered in the new eBook: 9 Experts on Rethinking Demand Generation.
David Fortino is the SVP of Audience and Product for NetLine Corporation and is responsible for the strategic direction and management of NetLine's audience, publisher, and client facing technologies, platform, and product development roadmap.
The subject matter covered during this webinar has been directly inspired by the "
9 Experts Rethinking Demand Generation
" NetLine and
MightyGuides co-sponsored eBook
with Mighty Guides.