<< Back to Resources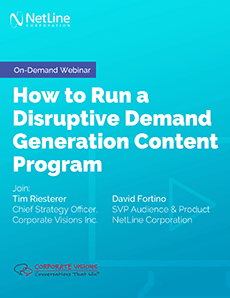 How to Run a Disruptive Demand Generation Content Program
In part one, "Find Your Disruptive Story/Focus on Situations Not Personas," of this two-part live webinar, Chief Strategy Officer, Tim Riesterer, from Corporate Visions Inc. will articulate why it's integral for today's marketer to find their disruptive story in hopes of driving success.
Leveraging content for demand generation programs can help overcome the status quo bias, but it often fails to disrupt. "The reasons why people stick with the status quo are well known," says Tim Riesterer, an expert in helping companies find their stories. "Demand gen messaging must deliberately address the causes of status quo thinking."
In part two, "
Marketing Beyond the C-Suite / Get the Most Out of Your Content Distribution
," SVP Audience and Product, David Fortino, at NetLine Corporation will share his perspective on the current state of demand generation as it relates to effective lead gen campaign targeting strategies. David will emphasize the pivot organizations and marketers are failing to make, and expand on targeting today's buying committee. These findings are based on NetLine's 2017 industry-based research series, and will also offer real-world examples in how to properly align your content campaign strategy with your lead gen goals.
The subject matter covered during this webinar has been directly inspired by the "
9 Experts Rethinking Demand Generation
" NetLine and
MightyGuides co-sponsored eBook
with Mighty Guides.