<< Back to Resources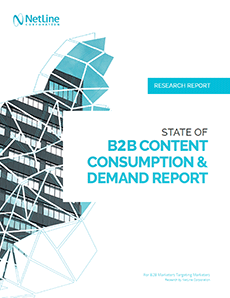 2018 State of B2B Content Consumption and Demand Report for Marketers
Clear, action-based insights for B2B marketers based upon 12 months of data from consumption activity across the NetLine Corporation Network
This report provides B2B marketers with data from thousands of real campaigns over the past 12 months, yielding insights from consumption activity taking place across the NetLine Corporation Network in the US. Combining two layers of data – that of the in-demand audience and realities of active audience consumption – marketers can derive tactics to assemble a comprehensive content marketing strategy.
Last year, we brought B2B marketers a data-centric
report
, chock full of analytical insights. This year, we raised the bar on analytical insights to deliver relatable, action-based information. Categorically developed to answer the top-line concerns of B2B marketers, NetLine's analysis of the in-demand and active audience consumption behaviors are broken into four priority areas for optimizing a B2B content strategy:
By the People
By the Company
By the Industry
Observations on Tech & Society
Robert Alvin, CEO and Founder of NetLine Corporation, shares the value of taking a data-based, qualitative approach to a content syndication strategy, "This year's report takes the exclusivity of our unique and robust data sets and delivers components of marketing pillars that can be tailored to an organization's objectives. Simplifying the ecosystem behind consumption behavior for hundreds of thousands of professionals empowers B2B marketers to propel their brand's voice, ultimately delivering the ROI and quality leads that help organizations succeed."
The 2018 State of B2B Content Consumption and Demand Report for Marketers features exclusive data from the leading and largest B2B content syndication network, real professionals, consuming real content. Design your 2018 marketing strategy with data – download today.