<< Back to Resources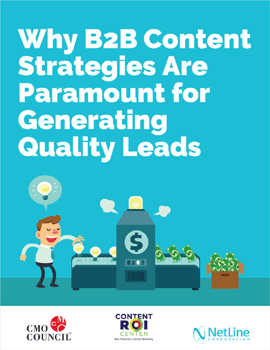 Why B2B Content Strategies Are Paramount for Generating Quality Leads
Generating demand and ensuring the consistent flow of high-quality, actionable leads is what makes B2B marketers successful.
Sales enablement and pipeline performance remain key mandates as organizations look to better harness their content marketing practices to be high-performance growth engines.
To address the growing need to optimize lead flow and track winning content marketing strategies to optimized demand-generation tactics, the CMO Council has partnered with global content syndication expert NetLine to better understand the issues and challenges marketers face when working to deliver timely, relevant and robust content that reaches the right audiences. This report features insights and best practices from six qualitative interviews and a quantitative survey of more than 200 marketing executives to enrich the thinking around content performance, syndication and demand-generation strategies.
What you'll take away from this report:
Understand the current content marketing landscape and its challenges.
Develop meaningful and relevant content that resonates with the proper audience through proper channel distribution.
Improve your content marketing strategy through various methods, including aligning Sales and Marketing objectives, in order to increase healthy lead flow.