<< Back to Resources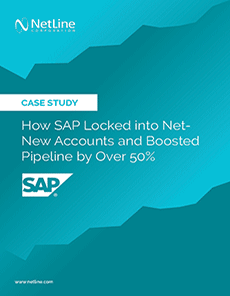 How SAP Locked into Net-New Accounts and Boosted Pipeline by Over 50%
Discover how SAP North America built a content-powered strategy for sustainable growth and increased their pipeline by 50%.
Many B2B marketers are faced with the same question, "How am I supposed to sustainably generate targeted, quality leads my sales team can take action on?" SAP North America needed a way to reach in-market prospects from targeted accounts and generate actionable leads. Learn how SAP overhauled their strategy to boost pipeline, revenue, and repeat success through a content-centric approach.
This case study explores how:
SAP shifted gears from an outdated process to a new methodology for content creation and targeting execution
A buyer-oriented approach centered around personalized messaging and a B2B environment increases engagement
Leveraging first-party data with the right metrics is the key to optimizing your lead generation strategy
Alignment across all department leaders, not just Sales and Marketing, is how organizational change occurs
Building scalable, sustainable campaigns is made easier with a reliable partner
SAP discovered the secret to breaking into net-new accounts to reach targeted professionals who are in-market for the solutions they sell. See how they generated sustainable growth and quality pipeline through a content- powered strategy – and why they've relied on NetLine for years to drive marketing success.