<< Back to Resources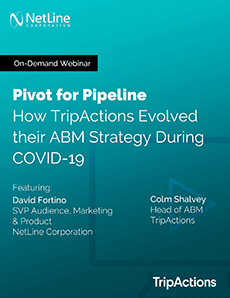 Pivot for Pipeline: How TripActions Evolved their ABM Strategy During COVID-19
Discover how TripActions pivoted their targeting and content strategy and generated 13,000% ROI.
How can B2B marketers drive scalable opportunity growth? By building a tactical strategy and pairing it with a solution that delivers results. As part of the ABM Leadership Alliance's virtual summit, NetLine's David Fortino joined forces with TripActions' Colm Shalvey to discuss how TripActions built a sustainable, scalable program for quality lead generation.
This webinar discusses how to:
Pivot your content and targeting strategy in a real-world crisis
Acquire target accounts for pipeline generation
Diversify content across the buying committee to drive deeper engagement
Create sustainable growth for long-term success
Apply buyer engagement data to an ABM strategy
TripActions found the solution to build opportunity growth at a continued healthy rate to bring in net-new names that converted to net-new clients. Discover the proven tactics and first-party content engagement insights for content-powered lead generation success.