<< Back to Resources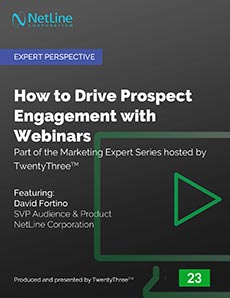 How to Drive Prospect Engagement with Webinars
TwentyThree™ sat down with David Fortino, SVP Audience and Product at NetLine to discuss how B2B marketers can leverage webinars to drive their demand generation and lead generation strategies, improve engagement, and drive bottom of funnel engagement. Plus, valuable advice for marketers on how to get more out of your webinars. You'll get expert advice on:
Measuring success: ROI and building pipeline are priorities for measuring downstream outcomes from the time and effort of webinars. Learn how to go beyond registration and attendance numbers by offering up additional CTAs for more engagement. Get a new perspective on traffic versus actions for alignment with sales and building pipeline.
Tips on using webinars: generally thought of as a bottom-of-funnel channel, webinars can start at the top, too. See how to use webinars to give you brand a personality and build a relationship with the user. Get some valuable ideas on how to make webinars and video content more impactful to drive engagement.
Advice for marketers: outbound tactics falling short? Lots of marketers exhaust their email and social network audiences to generate registrations. Discover solutions for marketers who want to break away from audience fatigue.
Register now to get access!