<< Back to Resources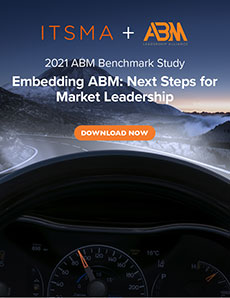 ABM Benchmark Study
Embedding ABM: Next Steps for Market Leadership
Through the last two years of pandemic-based disruption, B2B marketers have put even more emphasis on Account-Based Marketing (ABM) as a necessary strategy to drive business growth.
Embedding ABM: Next Steps for Market Leadership
, the fifth annual ABM benchmark study from ITSMA and the ABM Leadership Alliance, highlights both the successes and the struggles that organizations are experiencing with ABM.
The ABM approach works:
72% of companies reported greater ROI from ABM than other types of marketing.
70% said that ABM principles influence the way they do all marketing today.
However, ABM programs continue to struggle in several key areas, including aligning with sales, customizing content and campaigns, and measuring business impact.
As ABM increasingly becomes business as usual, this essential study provides critical insight into the current state of play with ABM, what's working for the most effective programs, and the investment priorities required to maximize business impact in 2022.