<< Back to Resources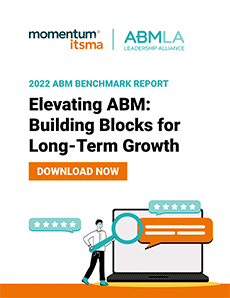 Evaluating ABM: Building Blocks for Long-Term Growth
For ABM leaders, the big question today is how best to invest to ensure maximum impact amid growing market pressures and rising customer expectations. B2B marketers have doubled down on ABM in recent years but the bar continues to rise!
Elevating ABM: Building Blocks for Long-Term Success
, the sixth annual ABM benchmark report from ITSMA and the ABM Leadership Alliance, explores both the current state of ABM and the priorities for longer term success.
Based on an international survey of almost 300 ABM leaders and practitioners, plus interviews and hands-on experience with hundreds of programs, the report documents:
The investments that ABM programs are making
The diverse approaches they're taking
Key ABM attributes and maturity levels
Essential team skills, tactics and tools
Business results from real-world strategies
For companies looking to develop and strengthen ABM programs, the report also highlights current challenges and plans for 2023, the key differences between the most effective programs and others, and the building blocks for long-term success. Download now!
Brought to you as a member of the ABM Leadership Alliance.