<< Back to Resources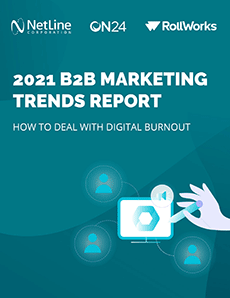 2021 B2B Marketing Trends Report: How to Deal with Digital Burnout
Let's face it: audiences are burnt out on digital marketing. They're flooded – non-stop – with emails, eBooks, webinars and the same digital marketing tricks we've come to rely on since early 2020.
Heck, we as marketers are also tired of the same-old, same-old.
So, what can we do to fight digital fatigue? To answer this question, the digital marketing experts from ON24, NetLine and Rollworks sat down to discuss.
In this report you'll learn how to:
Fight digital fatigue and keep audiences engaged with your content
Use the tools you have to deal with burnout challenges
Inspire your audiences (and your team) by re-thinking how you engage digitally
Question norms and re-discover tactics that drive real engagement
Discover your second wind. Download the report now!