<< Back to Resources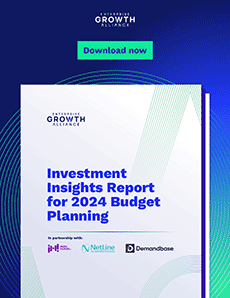 Investment Insights Report for 2024 Budget Planning
Where are the fastest growing companies planning to invest their resources?
In anticipation of the imminent 2024 planning season, the Enterprise Growth Alliance surveyed 400 B2B marketing decision-makers to understand the most important outcomes they are trying to achieve with their next planned investment.
The result is a look at how high growth marketing organizations plan to continue that trajectory, largely by better balancing marketing's contribution across net new, retention, and upsell and cross-sell revenue streams.
Explore this eBook to discover what we learned from high growth B2B marketing organizations about:
What outcomes are driving their next planned investment
How focusing on your install base can drive growth
Which people, programs and technologies will have the highest impact on efficiency, retention and expansion
Read the latest insights for a successful 2024.
Brought to you as a member of the Enterprise Growth Alliance.