<< Back to Resources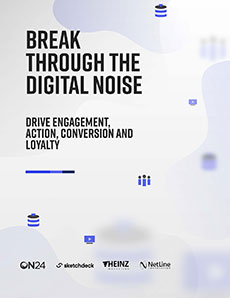 Break Through the Digital Noise: Drive Engagement, Action, Conversion and Loyalty
Discover how to improve the effectiveness of your content marketing strategy and "break through the noise" based upon research from over 150 B2B marketing professionals.
Making its debut at Webinar World 2019, Heinz Marketing and ON24 released a study based on qualitative and quantitative feedback from 150 B2B marketing professionals that aims to understand and resolve the top pain points of content marketers.
The report provides data on content marketers' satisfaction levels with their strategies as well as their ability to report on content resonance and its downstream impact on sales.
Learn how marketers can resolve these common strategy issues:
• Get a "Framework for Engagement Success": the three focus areas that support higher engagement.
• "Best Practices in Personalization": breaking through common barriers to effective content.
• Leverage the example engagement template for organizing and executing successful engagement content.